The EU project 'Developing Education at Memorial Sites', 2013/14
'Developing Education at Memorial Sites' was an EU project focusing on education at the Mauthausen Memorial, which was carried out over one and a half years in 2013/14. It was part of the 'Europe for Citizens' programme of the European Union and was supported by the Austrian Federal Ministry of the Interior and _erinnern.at_.
In 2008/09, the education team at the Mauthausen Memorial, working with external experts, developed an educational concept that placed discussion with visitors about their observations and thoughts on the history they were hearing at the heart of each guided tour (Yariv Lapid, Christian Angerer, Maria Ecker: 'What's it got to do with me?' Cf. Das Vermittlungskonzept an der Gedenkstätte Mauthausen, in: Gedenkstättenrundbrief No. 162, 8/2011, pp. 40–45). This approach, whose objective was content-led, interactive sequences with visitors about the history of the concentration camp, needed to be developed in theoretical terms and implemented in practice – no easy task for educational teams at memorial sites. The aim of the EU project 'Developing Education at Memorial Sites' was therefore to take this educational concept for the Mauthausen Memorial and develop theoretical and practical models for educational work at memorials that would facilitate dialogue with visitors, something which could then also be used by other memorial museums.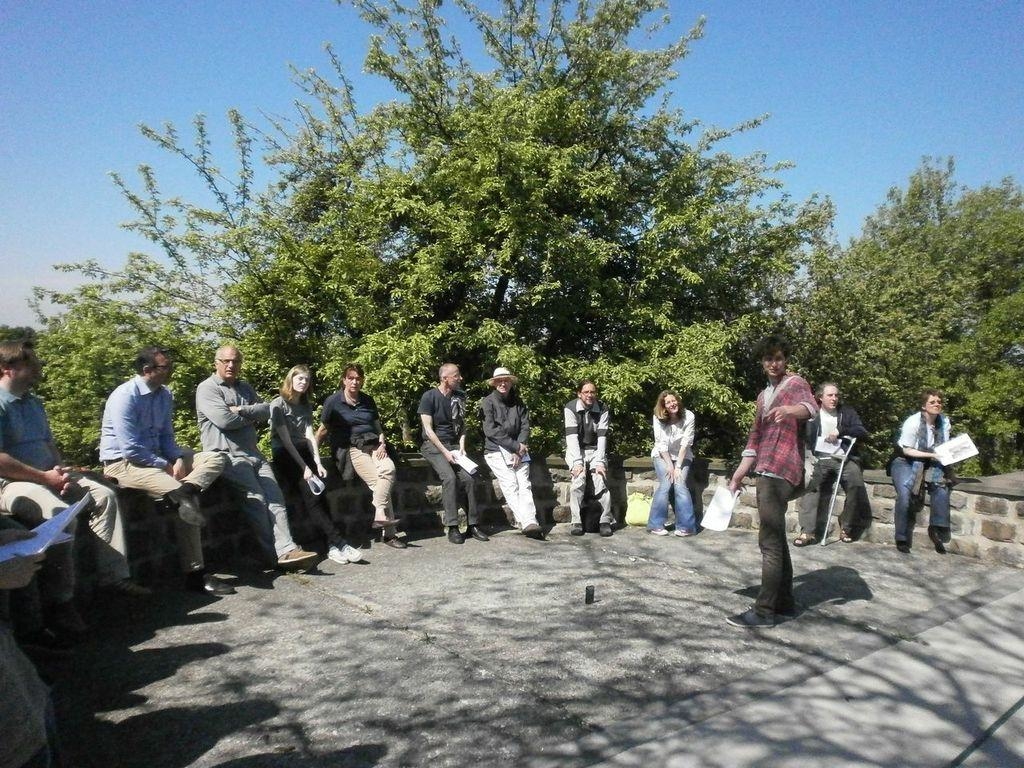 EU-Project "Developing Education at Memorial Sites" (photo credits: Mauthausen Memorial)
External experts from memorial sites and educational institutions in Germany, the Netherlands and Great Britain joined internal experts – the guides and educational staff at the Mauthausen Memorial – to form the project's think tank. This group met for five workshops at which, during the initial phase, the external experts assessed the educational staff's proposed tour route and, during the final phase of the project, practiced drafts for interactive sequences on the tour with the guides. In addition, the external participants offered their expertise in the form of presentations and workshops on the social psychology of violence, on communicating complexity in Holocaust education, and on dramaturgy and learning strategies in education at memorial sites. This input was incorporated at the planning stages.
Another important part of the EU project was the creation of an evaluation tool for guided tours. A list of terms was created which, with the help of an IT programme, allowed a detailed analysis of transcribed guided tours. Finally, a separate working group looked at the infrastructural, social and psychological support required by guides at the Mauthausen Memorial.
The English language website www.edums.eu documents the process and outcomes of the EU project 'Developing Education at Memorial Sites' through a wide range of text documents and images. The brochure 'The Challenges of Interaction. Developing Education at Memorial Sites' (2014) summarises the working process and the content of the EU project in the form of a final report.