Job Openings
Educators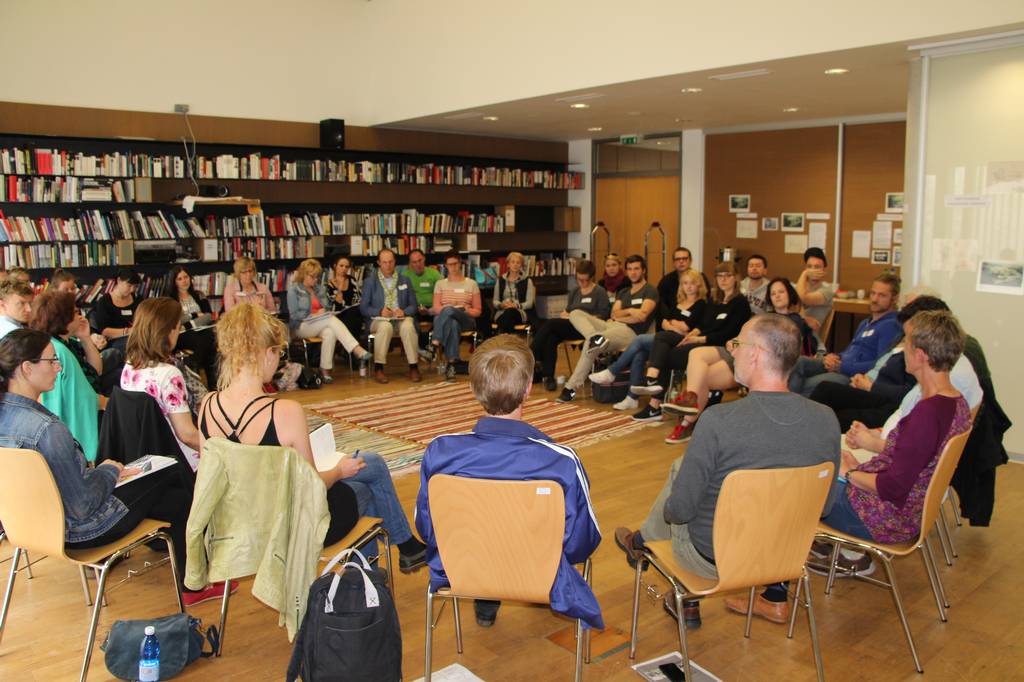 Training course for guides 2015 (photo credits: Mauthausen MemoriaI)
At the Mauthausen Memorial visitors encounter a history of extreme violence, violence motivated by ideology, anti-Semitism and racism. Dealing with National Socialism and its crimes is an essential element of historical-political education. Therefore educators at the Mauthausen Memorial have a very important task to fulfill, especially when they guide young people to key locations.
The Mauthausen Memorial – in cooperation with _erinnern.at_ (Holocaust Education Institute of the Austrian Ministry of Education) – has so far trained about 150 educators who work as freelancers. Five training courses have taken place since 2009. They each ran over the course of about half a year and were made up of eight training modules on historical and pedagogical topics.
Educators accompany visitor groups, especially school groups, on guided tours and hold workshops for them. Based on a the multi-perspective narration of the history of the Mauthausen concentration camp, guided tours and workshops aim to enable interaction within the group and reflection relating to one´s self and the present.
In 2022, the Mauthausen Memorial reorganised educational work. Training courses for new educators will take place at irregular intervals in the future. Courses will be announced via our website, social media and media reports.
Contact
E-Mail: education@mauthausen-memorial.org
Alternative civilian service (Zivildienst)
In 1984 the Mauthausen Memorial was officially recognised as an institution offering places for alternative civilian service (Zivildienst). Since then it has been offering Austrian citizens of military service age the option to carry out their civilian service at this institution of the Republic of Austria and, over the years, several hundred young men have taken advantage of this opportunity. Civilian service can be carried out at the Mauthausen Memorial or in the Archive of the Mauthausen Memorial in Vienna.
Requirements
Applicants should have a personal interest in the topic, enthusiasm, knowledge of foreign languages (especially English) and basic knowledge of MS Office.
At the Mauthausen Memorial:
Basic training for Zivildiener at the Mauthausen Memorial takes place during the first week. The Zivildiener get to know the other staff and their areas of work, are provided with basic historical information, become familiar with the memorial site and are prepared for their work looking after individual visitors.
Further training takes place on a modular basis in regular, shorter blocks, during which the Zivildiener are given training in historical and educational topics.
Zivildiener work in the following areas:
Looking after visitors, working as an archive, library and museum attendant, maintenance and garden work, cleaning, making collections and deliveries, driving (staff car), assisting the education and administration departments.
Mauthausen Memorial in Vienna:
Carrying out Zivildienst in Vienna offers those particularly interested in history the chance to immerse themselves in a historical topic and experience the public relations of a non-profit organisation and the workings of an archive first hand.
Zivildiener support the implementation of communication measures and help in building up the database of all former prisoners of the Mauthausen Memorial and in digitalising archive holdings. They receive training from staff.
Contact address for applicants
Location Mauthausen
Mauthausen Memorial
Erinnerungsstraße 1
4310 Mauthausen
Tel: +43 7238 2269-0
Location Vienna
Mauthausen Memorial
Argentinierstraße 13, Top 103+104
1040 Wien
Tel: +43 1 376 3000-100
E-Mail: office@mauthausen-memorial.org