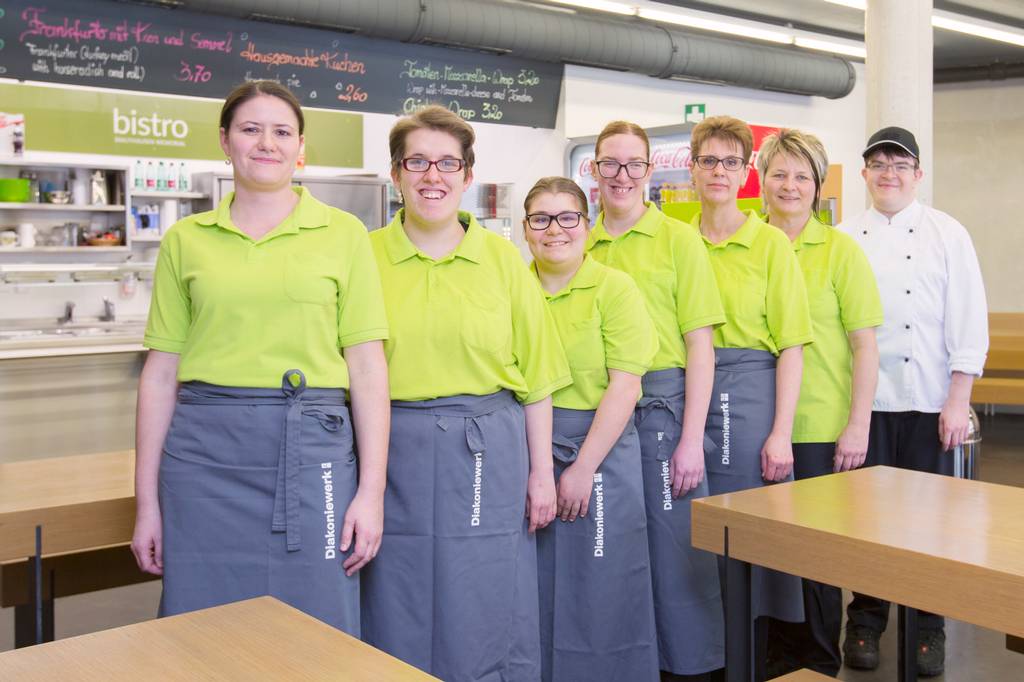 The team of the "Bistro Mauthausen Memorial" (photo credits: Mauthausen Memorial / markushechenberger.net)The 'Bistro Mauthausen Memorial', which has been operated since March 2016 by the charity Diakoniewerk, offers visitors to the Mauthausen Memorial a range of freshly-prepared, regional dishes. At the Bistro, people with disabilities work together with catering professionals.
In addition to drinks, snacks, soups and sandwiches, as well as coffee, tea and cakes, we can also offer special menus for school visits and groups of adults. Individual selections, for example packed lunches or warm dishes, are also available to pre-order. For groups in particular this guarantees swift service and helps us to avoid long waiting times.
The menu of the day includes vegetarian choices and meat dishes with beef or poultry.

An overview of the drinks and food on offer is available to download here.
Special offers for groups can be found here.
Opening times
1 September – 25 October: Monday to Friday; 09:00 am to 05:00 pm
26 October – 29 February: Tuesday to Saturday; 09:00 am to 04:00 pm
Enquiries, reservations and orders
Tel: +43 (0)7238 291 84
E-Mail: bistro-mauthausen@diakoniewerk.at
Further information about Diakoniewerk can be found at www.diakoniewerk.at.