Book presentation 'Memorial Book for the Dead of the Mauthausen Concentration Camp and its Subcamps'
15.05.2016, 12:00 Uhr
On 15 May 2016 the 'Memorial Book for the Dead of the Mauthausen Concentration Camp and its Subcamps' was presented in the presence of Federal President Dr. Heinz Fischer and Federal Minister of the Interior Mag. Wolfgang Sobotka in the Visitor Centre of the Mauthausen Memorial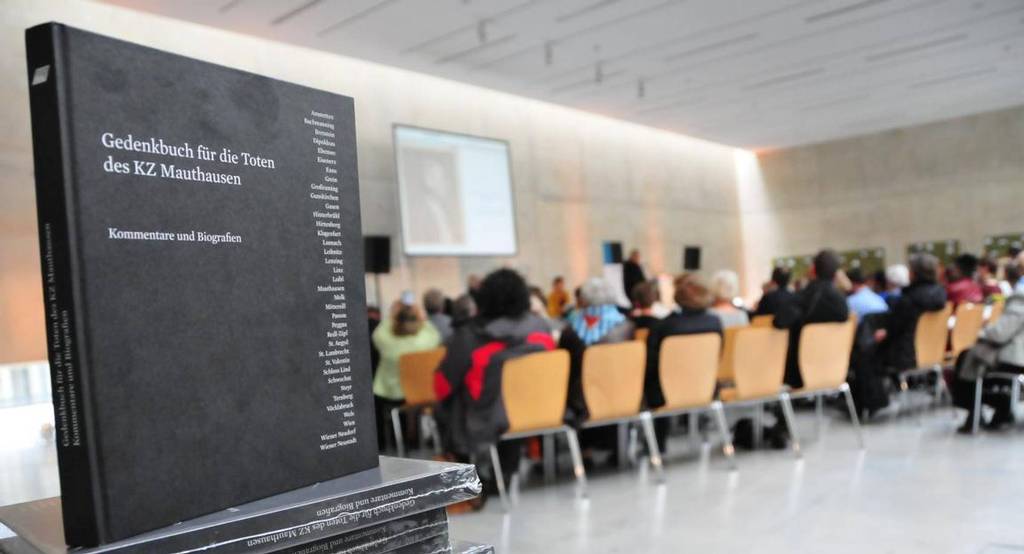 At least 90,000 people were murdered in the Mauthausen concentration camp and its subcamps between August 1938 and May 1945 or died immediately after liberation as a result of their imprisonment. With the 'Memorial Book for the Dead of the Mauthausen Concentration Camp and its Subcamps', the Mauthausen Memorial seeks to commemorate those who died. Remembrance of the dead is one of the principal commitments and tasks of the memorial museum; but it is also a wider social responsibility and a shared endeavour – and it takes on the legacy of the survivors to remember the dead of the concentration camp.
Two volumes reproduce the names and dates of birth and death of over 84,000 people whose identity has been reconstructed through years of research, with the spellings of their names corresponding to those used in their home countries. An extraordinary level of international cooperation meant that numerous people and international institutions were involved in this project – survivors and survivor organisations, academic institutions and archives, researchers and relatives of the victims, as well as several embassies of their home countries.
The companion volume to the edition is made up of academic commentaries and a biography section. The academic articles introduce readers to the history of the project and editorial decisions, illuminate the historical background and place the project within the larger context of the commemoration of the dead of the Mauthausen concentration camp and its subcamps. The second part of the companion volume contains over 300 personal, academic and literary biographies written by over 250 project partners about people who were murdered in the Mauthausen concentration camp or in one of its subcamps, or who died as a result of imprisonment.
The project was carried out by the Association for Remembrance and Historical Research in Austrian Concentration Camp Memorials in cooperation with the Mauthausen Memorial. It was supported and financed by the Federal Ministry of the Interior, the National Fund of the Republic of Austria for the Victims of National Socialism and the Future Fund of the Republic of Austria.
www.gedenkstaetten.at/raum-der-namen
www.newacademicpress.at/?s=mauthausen