'Make a twofold disappearance visible': New photo exhibition at the Mauthausen Memorial
22.01.2019, 09:49 - 31.10.2019 Uhr
On 10 April 2019, the Mauthausen Memorial will showcase work by Austrian photographer Marko Zink in the exhibition 'M (48° 15' 24.13" N, 14° 30' 6.31" E)'. Zink's aim in this project is to use photographic techniques to make a twofold disappearance visible: the extermination of people and the eradication of memory.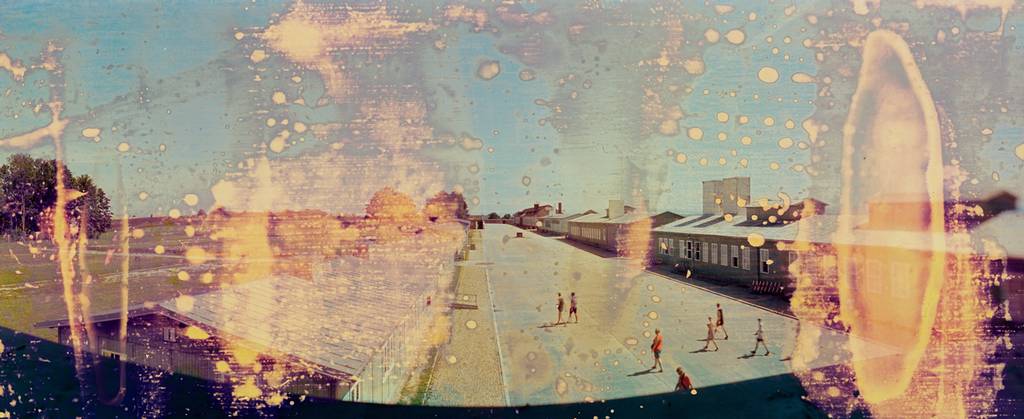 'Marko Zink's work is of huge value to us because his images show the Mauthausen Memorial from a completely new perspective. And that is exactly what we are trying to achieve with our education programmes. We want visitors to use their individual impressions to make connections on their own, to sharpen their focus and find their own way of approaching the site', explains Barbara Glück, Director of the Mauthausen Memorial. The medium chosen by Marko Zink is analogue photography. He works on his films before exposing them by cooking them, stamping on them, or treating them with chlorine or an ink eraser. Using this delicate film material, he then photographed selected sites in and outside the former concentration camp, for example the camp road, the former sports ground and the Marbacher Linde, a linden tree where thousands of bodies were hastily buried.
The photographs are presented in a range of formats including panorama shots, 'turning pictures', in which the perspective shifts suddenly, and more conceptual, processed images. Thus Zink presents an image of a room in which 500 prisoners were housed made up of 500 individual shots, each taken from a slightly different perspective – symbolising the 500 pairs of eyes that once gazed through the window.
Sometimes Zink's photos seem like found historical objects, taken quickly and in secret, bleached by the sun, half destroyed by the ravages of time. 'Sometimes the photos with their defects seem to give an account on a separate plane of the atrocities that took place here less than eight decades ago. And sometimes they seem to make visible what only seemingly cannot be seen anymore,' writes Marko Zink.
Born in 1975 in Gaschurn, Austria, Marko Zink was taught by Ingo Springenschmied before studying at the Academy of Fine Arts Vienna. Here he attended courses in Art and Photography, Expanded Pictorial Space, Art in Public Space and Performance with Eva Schlegel, Josephine Pryde, Franz Graf, Judith Huemer, Mona Hahn and Matthias Herrmann. He graduated from Friedl Kubelka's School for Artistic Photography in Vienna and with distinction from Carola Derting's class at the Academy of Fine Arts Vienna. Furthermore he studied German Philology, Journalism and Art History at the University of Vienna, graduating with distinction.
In his work, Zink seeks to reinterpret staged photography. On the one hand, he gives the viewer the feeling of having witnessed this 'fleeting' moment only by chance. On the other hand, he stages subjects as objects and vice versa. Marko Zink makes exclusive use of analogue photography with boiled film, describing the resulting decomposition of the film as an important element of his work. Zink's photographs have been shown in solo and group exhibitions in numerous museums and galleries worldwide. In 2010 and 2012 his work was prominently displayed at the 'European Month of Photography' in Vienna, while his series 'swimmer' was presented at the 'Mois De La Photographie Européenne' 2012 in Paris. For his series 'tragedies' he collaborated with Nobel laureate Elfriede Jelinek. In winter 2014, Zink's artwork featured on the poster for 'this human world', an international film festival of human rights.
Texts by Wolfgang Huber-Lang and Maria Magdalena Pressel
Facts:
EXHIBITION Mauthausen Memorial
10 April to 31 October 2019
Erinnerungsstrasse 1
4310 Mauthausen
www.mauthausen-memorial.org
Catalogue: 'M 48° 15' 24.13" N, 14° 30' 6.31" E'
Publication date: September 2019
Mandelbaum Verlag
Contributors: Gudrun Blohberger, Andrea B. Braidt, Christian Dürr, Barbara Glück, Felicitas Heimann-Jelinek, Wolfgang Huber-Lang, Thomas Licek, Marija Nujic, Bertrand Perz und Felicitas Thun-Hohenstein

Download Exhibition folder