Mauthausen Memorial given new online presence
26.04.2016
www.mauthausen-memorial.org, the website of the Mauthausen Memorial, relaunches on Monday, 25 April with a new concept and design and revised content.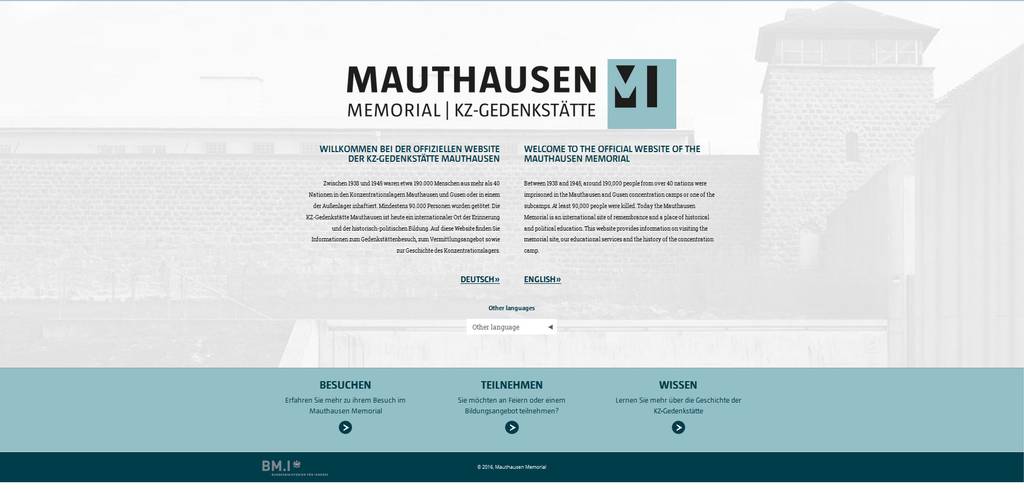 Clear, contemporary and equipped with several new functions comes the new website of the Mauthausen Memorial. The extensive redesign of the site is another building block in the development of multimedia and interactive programmes by the Mauthausen Memorial. Comprehensively reworked in terms of content, the new website has been adapted to better meet users' needs and is tailored to their information and communication requirements.
The clear structure and easy-to-use navigation mean that users are able to find what they need quickly. With content arranged under the headings 'Visit', 'Take Part' and 'History', users can discover more about the Mauthausen Memorial with just a few clicks and are given an overview of its wide range of programmes and activities. Virtual maps provide orientation around the memorial site and multimedia elements enable visitors to interact with the question 'What does this have to do with me?'
The pared-down design allows the content to come through. In addition, the site adapts automatically to the user's device for optimal use on smartphones and tablets.