9th Dialogforum Mauthausen: 'Addressing the National Socialist Past in Art' (in German language)
18.09.2017, 10:00 - 19.09.2017, 16:30 Uhr
The 9th Dialogforum Mauthausen took place from 18 to 19 September 2017 at the Visitor Centre of the Mauthausen Memorial. This year's topic was 'Addressing the National Socialist Past in Art'.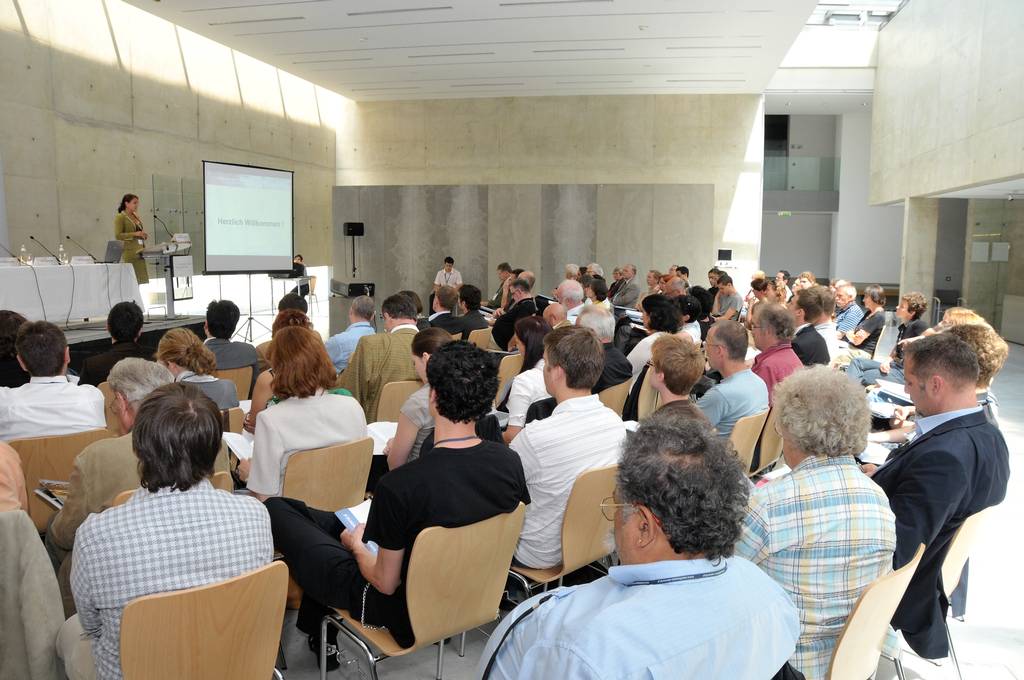 Since the end of the Second World War, not only the victims but a great many creative artists have addressed National Socialist terror in their work. More recent decades have produced a wide array of artistic works that take more or less conventional approaches to the topic in a variety of different formats and genres.
In seeking to counteract a tendency to forget, artists have made use of a range of art forms. Literature and theatre, music, film and above all the visual and creative arts have been mobilised not only in an – often socially and politically undesirable – attempt to come to terms with the past, but also in many cases to work through the artist's own history.
The 9th Dialogforum Mauthausen explored the topic of 'Addressing the National Socialist Past in Art' through lectures and talks on film, literature, visual art, music and theatre.
Programme:
18 September 2017
10:00-11:00
Welcome
Barbara Glück
Introduction
Gregor Holzinger
11:00-11:30
Panel 1: Visual Art
Speakers:
Christian Gmeiner – The project 'Mobiles Erinnern' / 'Mobile Remembering'
Tanja Prušnik – UTOPIA_gnp2
Karin Schneider – Possibilities, challenges and problems of artistic practices in the representation of the Holocaust
Chair: Angela Koch
13:00-14:00
Lunch break
14:00-16:00
Panel 2: Literature
Speakers:
Vladimir Vertlib – The Oratorium "...und alle Toten starben friedlich..."
Matthias N. Lorenz – Günter Grass and working through his SS past in his literary oeuvre
Christian Angerer – Kitsch and art. The Mauthausen concentration camp in literature
Chair: Simone Loistl
16:00-16:15
Coffee break
16:15-18:00
Self-guided tour with audio guide and display of objects from the art collection of the Mauthausen Memorial
Opportunity to view the 'Ziereis Bunker' in small groups with building archaeologist Paul Mitchell
20:00
Event as part of the accompanying programme:
Book reading by
Doron Rabinovici: The Burden of Memory
Wissensturm Linz, event hall E09, Kärntnerstraße 26, 4020 Linz
19 September 2017
09:30-10:00
Welcome
10:00-12:00
Panel 3: Film
Speakers:
Andreas Gruber – Lecture to his Nazi-themed film projects and their backgrounds
Klaus Stanjek – The sounds of silencing
Sonja M. Schultz – National Socialism in film
Chair: Gregor Holzinger
12:00-13:00
Lunch break
13:00-15:00
Panel 4: Music and Theatre
Speakers:
Sonja Neumann – Holocaust and popular music
Kutlu Yurtseven – The project 'Microphone Mafia' with Auschwitz survivor Esther Bejarano
Peter Wagner – Contexts, performances and impact of his plays and stage productions
Chair: Brigitte Dalinger
15:00-15:15
Coffee break
15:15-16:30
Film screening of 'Hero of Our Times'
Introduction: Andreas Kranebitter
16:30
Closing words
Organiser:
Mauthausen Memorial
Location:
Visitor Centre, Mauthausen Memorial
Contact:
KZ-Gedenkstätte Mauthausen / Mauthausen Memorial
Minoritenplatz 9
1010 Vienna
Tel: +43 1 53126-3708
E-Mail: info@mauthausen-memorial.org