Opening of the 'Bistro Mauthausen Memorial'
05.04.2017, 09:30 Uhr
Since 1 March 2016, four people with disabilities – supported by professional catering staff from the charity Diakoniewerk – have been providing visitors to the Mauthausen Memorial with refreshments at the 'Bistro Mauthausen Memorial'. Following extensive renovations made possible by the Burghauptmannschaft Austria, the restaurant, which is run on an integrative model, was reopened on 5 April 2017 by State Governor Dr. Josef Pühringer at a ceremony at the Mauthausen Memorial Visitor Centre.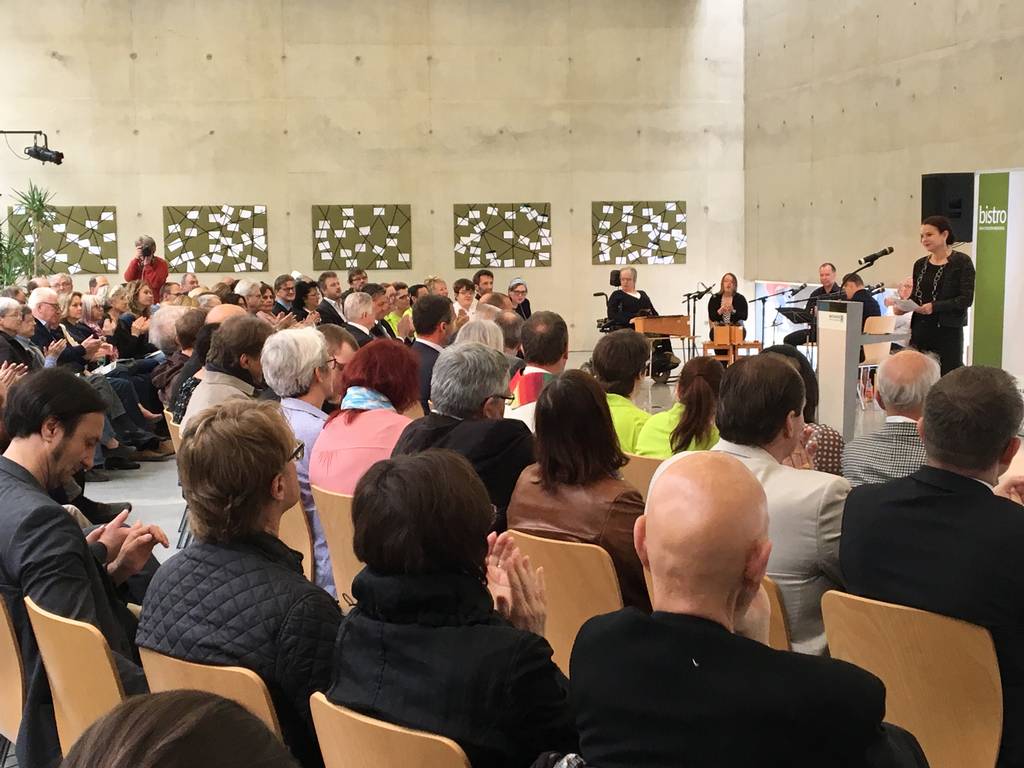 With the opening of the 'Bistro Mauthausen Memorial' on 1 March 2016, the Mauthausen Memorial and Diakoniewerk sent a clear signal in favour of greater tolerance, inclusion and equality of opportunity at this historic site. Following a year-long trial run and renovations, which mainly involved modernising the kitchen and enlarging the storage areas, the restaurant was reopened by State Governor Dr. Josef Pühringer at the Mauthausen Memorial Visitor Centre.
For the past year, four people with disabilities have been bringing their unique skills to the restaurant at the Mauthausen Memorial and – supported by professional catering staff – have been gaining valuable experience of the world of work and the social environment. They prepare dishes in the kitchen, work as servers, and keep the drinks dispensers stocked across the memorial site. During peak periods, they cater for up to 500 guests per day. As well as the high number of visitors, another big challenge is the range of languages and cultures encountered. 'When we don't understand what visitors want, then we have a go using our hands and a smile', says Kerstin S., who doesn't see this as a problem.
'Today the Mauthausen Memorial is more than a place of commemoration and learning, it is a place of encounter and coexistence where human rights education is lived and actively promoted. One excellent example of this is the day-to-day work of my team and that of the team from the "Bistro Mauthausen Memorial". What both share is the example they set, every day afresh, to the international guests at the Mauthausen Memorial of the importance of values such as openness, respect and acceptance', explained DDr. Barbara Glück, director of the Mauthausen Memorial.
For State Governor Dr. Josef Pühringer, who already awarded the Upper Austria Human Rights Prize to the project in November 2016, the Bistro team is the necessary reflection of a society in which solidarity and individual development are actively lived. Yet it is also a political statement, as Pühringer highlighted at the opening ceremony, since we must never be allowed to reach the point again where a difference is drawn between 'worthy' and 'unworthy' life.
For Mag. Josef Scharinger, chairman of Diakoniewerk, the implementation of this model at the Mauthausen site is a milestone on the path towards a more inclusive society. 'If we want equal participation, we need to start with a society which, regardless of disability, skin colour, religion etc., is equal in terms of rights and opportunities. The Bistro team is a vital symbol of a society in which the emphasis should be on solidarity and meeting on equal terms over exclusion. Today more than ever we need to treat each other with respect.'
Since 2011, Diakoniewerk has been collaborating with businesses to enable people with disabilities to work where everyone else works. Over 60 supported employees have already found a job via this route. With a suitable placement and vigorous support, often more can be achieved than people with disabilities themselves thought possible. Every job therefore helps them to develop their strengths and experience positive recognition. 'For us and also for those who work in the Bistro, it is a job like any other. It is about living a normal life and, above all, about meeting the demands made by a restaurant at the Mauthausen Memorial in a professional manner', emphasised Mag. Gerhard Breitenberger, director of Diakoniewerk Upper Austria.
'People with disabilities should and must be supported so that they can participate in society in the same way as people without disabilities, and likewise be given the chance to live their lives with as much autonomy as possible. Personally I believe that in the long run, this will benefit all of society', Glück remarked in closing.