"Dialogue of Memory – Stories Need Voices"
08.05.2018
On 4 May 2018, National Council President Wolfgang Sobotka and Federal Council President Reinhardt Todt invited guests to the "Commemorative Event against Violence and Racism in Memory of the Victims of National Socialism" in the Ceremonial Hall of the Hofburg in Vienna. At the heart of the event was the Mauthausen Memorial's youth project "Dialogue of Memory – Stories Need Voices".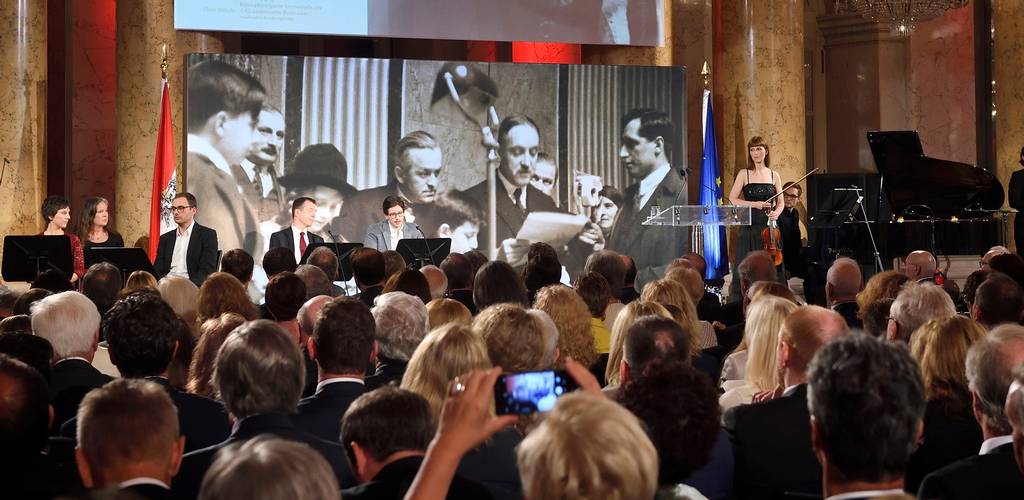 DDr. Barbara Glück, Director of the Mauthausen Memorial, introduced the project and the young people involved. Hannah Oppolzer, Elodie Arpa, Bernadette Sarman, Andrej Haring and Oliver Wittich each presented their thoughts on one biography from the "Memorial Book for the Dead of the Mauthausen Concentration Camp".
The biographies were read out by their authors: Brigitte Entner, Ulf Bollmann, Erika Prins, Florian Gantner and Lukas Sainitzer.
In addition to the texts by the young people, a film about the project and the work of the Mauthausen Memorial was presented.
The writer Michael Köhlmeier gave a commemorative address in which he stressed the importance of memorial work with young people. Hannah Lessing, Secretary General of the National Fund of the Republic of Austria for Victims of National Socialism, interviewed the Holocaust survivor Lucia Heilman, building a bridge between the crimes of the Nazi era and young people's consciousness today.
At the end of the event, the five young people handed over a scroll of their texts to Lucia Heilman. The event ended with standing ovations.