Orthodox Commemoration at the Mauthausen and Gunskirchen Memorials
12.09.2022
A retrospect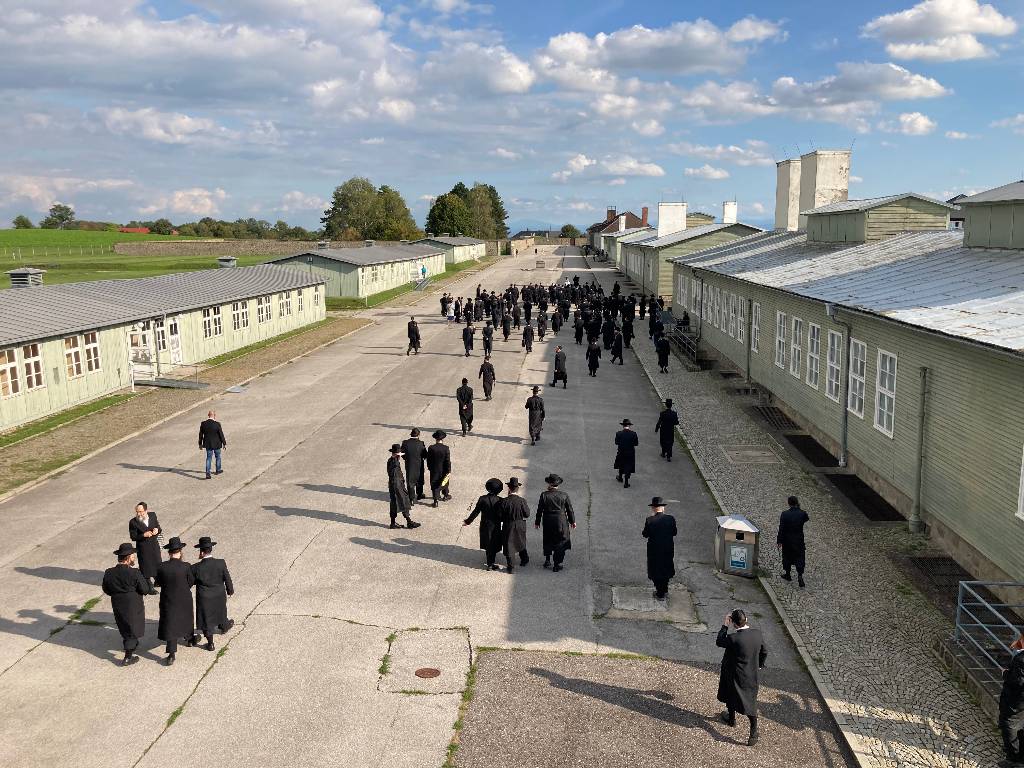 As part of a multi-day remembrance tour of Europe, earlier this week 300 members of the Orthodox Hasidic community 'Ichud Mosdos Gur' visited the Mauthausen Memorial and Gunskirchen. The programme of events included a remembrance ceremony, held in the main hall of the Visitor Centre at the Mauthausen Memorial, and a self-guided tour of the memorial site. A survivor of the Shoah, Rabbi Leibel Friedmann, who had come from New York especially, accompanied the strictly Orthodox group and gave a talk about his own life story:
In 1944, Friedman —the oldest of seven children— was deported with his family from their home town of Beregsaz, then in Czechoslovakia under Hungarian occupation and now Berehove in Ukraine, to Auschwitz. Friedmann, his father and one of his brothers were subsequently deported to Mauthausen.
Following their arrival on 28 May 1944, the brothers were transferred to the Gusen II camp and Leibel's father to Ebensee, where he was murdered in 1945 one week before the liberation. The brothers were deployed as forced labourers, carrying out gruelling physical labour on the construction of the 'Bergkristall' tunnel complex. In March 1945 the 15-year-old Leibel, who was registered as a Hungarian Jew under the name 'Jenö', was so weak that he was admitted to the Mauthausen infirmary camp to die. By sheer good luck he managed to escape several selections. Thus he was liberated in Mauthausen on 5 May 1945. His brother, along with 846 other unlawfully interned prisoners, was transferred to the tent camp on 24 April. A short time later he was forced on one of the death marches to the Gunskirchen camp, which became a death camp for thousands of Jews.
After liberation and recovery from severe typhoid fever and typhus infections, the brothers were reunited in Bratislava and emigrated to the USA. Since the end of the 1970s Leibel Friedmann has made regular visits to the sites where these crimes were committed in Mauthausen, Ebensee, Gusen and Gunskirchen. Before the Orthodox group left for the main remembrance ceremony in Gunskirchen, a group photo was taken at the Jewish memorial and traditional music was sung to commemorate those who had been murdered. At the Gunskirchen Memorial the Jewish prayer for the dead 'El Malei Rachamim' was recited and a memorial plaque was unveiled.