Integrative Restaurant at the Mauthausen Memorial Reopens After Renovations
05.04.2017
Since 1 March 2016, four people with disabilities – supported by professional catering staff from the charity Diakoniewerk – have been providing visitors to the Mauthausen Memorial with refreshments at the 'Bistro Mauthausen Memorial'. Following extensive renovations made possible by the Burghauptmannschaft Austria, the restaurant, which is run on an integrative model, was reopened on 5 April 2017 by State Governor Dr. Josef Pühringer.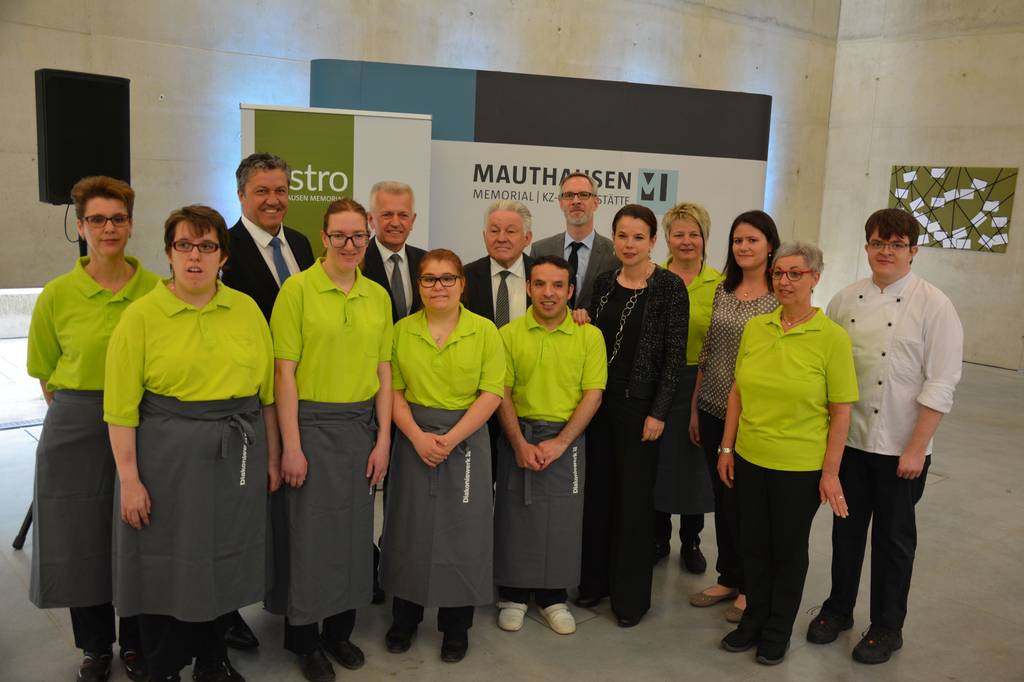 For State Governor Dr. Josef Pühringer, the 'Bistro Mauthausen Memorial' is not only a special place that brings people together and allows them to develop as individuals but is, above all, a clear statement in favour of more tolerance, inclusion and equality of opportunity. Back in November 2016 he awarded the project the Upper Austria Human Rights Prize. Yet it is also a political statement, as Pühringer emphasised, because we must never be allowed to reach the point again where a difference is drawn between 'worthy' and 'unworthy' life.
Four people with disabilities bring their unique skills to the restaurant at the Mauthausen Memorial and gain valuable experience of the world of work and the social environment. They prepare dishes in the kitchen, work as servers, and keep the drinks dispensers stocked across the memorial site. During peak periods, they cater for up to 500 guests per day.
'Today the Mauthausen Memorial is more than a place of commemoration and learning, it is a place of encounter and coexistence where human rights education is lived and actively promoted. One excellent example of this is the day-to-day work of my team and that of the team from the "Bistro Mauthausen Memorial". Every day anew they set an example to the international guests at the Mauthausen Memorial of the importance of values such as openness, respect and acceptance', explained DDr. Barbara Glück, director of the Mauthausen Memorial.
'For us and also for those who work in the Bistro, it is a job like any other. It is about living a normal life and about meeting the demands made by a restaurant at the Mauthausen Memorial in a professional manner', stressed Mag. Gerhard Breitenberger, director of Diakoniewerk Upper Austria.
For Mag. Josef Scharinger, chairman of Diakoniewerk, the implementation of this model at the Mauthausen site is a milestone on the path towards a more inclusive society. 'The Bistro team is a vital symbol of a society in which the emphasis should be on solidarity and meeting on equal terms over exclusion. Today more than ever we need to treat each other with respect.'