New Exhibition on Prisoner Accommodation in Barracks 6 and 11
14.12.2016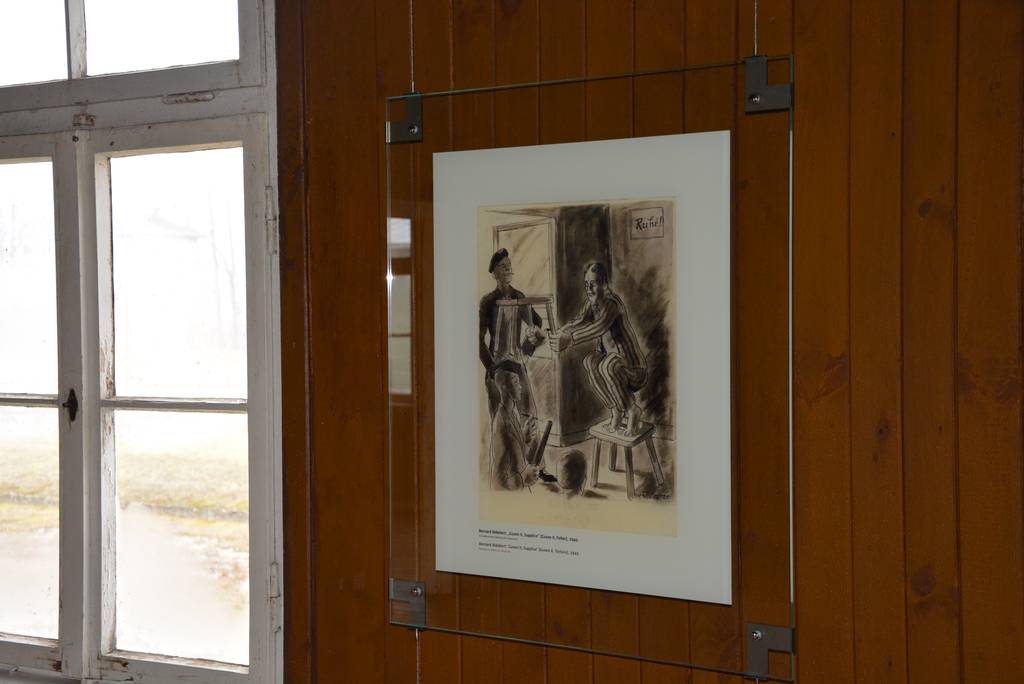 Until a few months ago, bunk beds and other items of furniture were on display at the Mauthausen Memorial in the former prisoners' barracks numbers 6 and 11. These objects did not date from the time the camp was in operation but were reconstructions made in the early years of the memorial museum (c. 1947 to 1949), yet they were not identifiable as such. Since this ran counter to the guidelines for the redesign of the memorial site, which stipulate that reconstructions are to be avoided, and because the small number of beds gave visitors a misleading image of overcrowded prisoner accommodation, the postwar items of furniture were removed.
In order to provide visitors to the memorial museum with an impression of the housing conditions faced by prisoners at the Mauthausen concentration camp, the Archive of the Mauthausen Memorial has developed information panels to go in the empty barracks that explore this topic in both German and English. Using selected quotes and drawings by former prisoners, historical photographs and short, informational texts to provide context, the displays in Barracks 6 look at accommodation in this building, while the displays in Barracks 11 address other areas of the camp (quarantine barracks, tent camp, women's barracks and infirmary camp).
In Bernhard Denkinger, the project found an accomplished exhibition architect to plan and implement both the artistic and technical aspects of the exhibition. The restrained design in the form of printed glass panels is sensitive to the historical setting. It also adheres to the guidelines for dealing with the historical remains of the camp, guidelines which were developed as part of the framework for the redesign of the memorial site in collaboration with researchers and educators working in the field of contemporary history. The project was carried out in cooperation with the Federal Monuments Office.
Curators: Christian Dürr, Katharina Kniefacz, Ralf Lechner
Educational Advisor: Gudrun Blohberger
Architecture and Graphics: Bernhard Denkinger, www.denkinger.at
Project Manager: Robert Vorberg