28.05.2018
Eighty years since the construction of Mauthausen Concentration Camp where homosexual men were imprisoned and forced to wear a Pink Triangle as a marker of their sexuality. Vangardist Magazine collaborate with Mauthausen Memorial to call for an alliance against contemporary violations of LGBTQI+ rights all around the world. Vangardist Magazine aim to reclaim the Pink Triangle as a symbol opposing homophobia.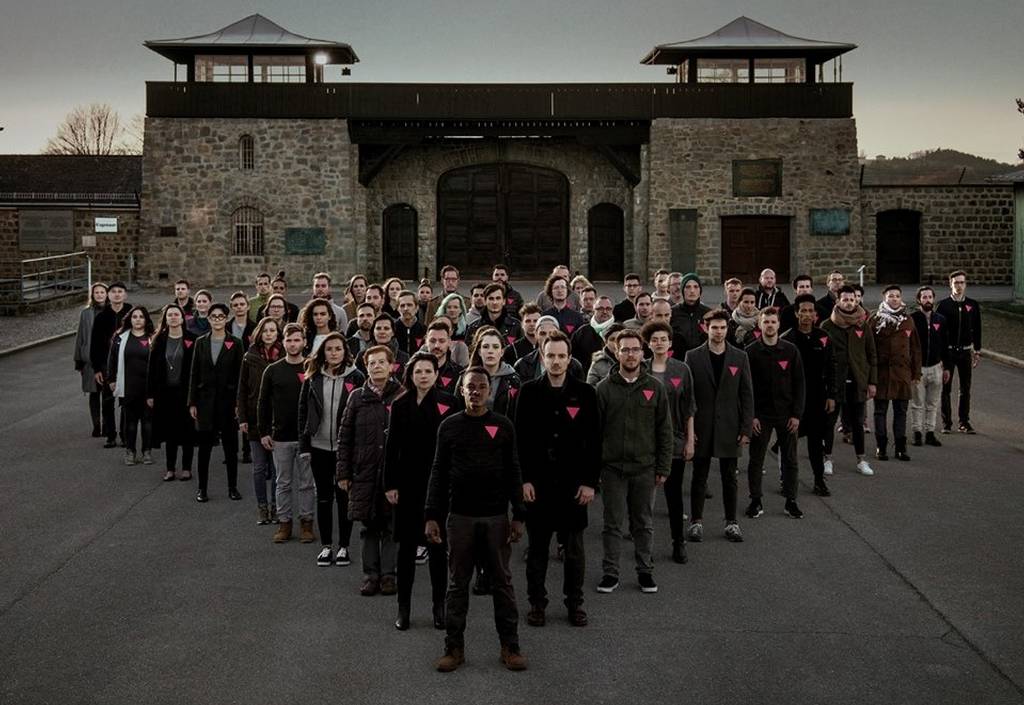 Mauthausen Concentration Camp was liberated by American troops on May 5, 1945, however a sad fact remains to be true: only a few people know about the torture of homosexuals in these National Socialist camps and even less know about the current homophobic fuelled hate crimes around the world. That is why VANGARDIST Magazine and Mauthausen Memorial have teamed up to create The Pink Triangle Issue, in an effort to start an online global petition aimed at making homophobia history once and for all and to raise funds for the work of Rainbow Railroad.
DDr. Barbara Glück, Director of Mauthausen Memorial commented: "The fight for the rights of homosexuals in Europe and around the world is important in our time. It is not just about a fight for human rights, but also about a historical responsibility that we have to fulfill. Although the persecution of homosexuals in Europe culminated in National Socialism, their roots are much deeper. In many parts of the world it still exists today. Although the recognition as a group of victims of the Nazis in Austria happened too late it was nevertheless an important step to account for the persecution of homosexuals in the past and working towards their social equality."
Vangardist Publisher and Editor-in-Chief Julian Wiehl said: "We remember the homosexual victims of Mauthausen. As a sign of respect of their unnecessary death we call for a broad alliance against homophobia today. Because homophobia belongs to the past but not to our future."
On 7 April 2018, 80 people from 10 countries travelled great distances to Mauthausen Concentration Camp Memorial and donated their time to take part in the creation of an photographic artwork symbolizing 'The Pink Triangle Issue', a special Vangardist Magazine collaboration with Mauthausen. At the front of the Triangle stood the director of Mauthausen Memorial DDr. Barbara Glück with the Vangardist Magazine Editor-in-Chief, Julian Wiehl, and Sudeene - a member of the LGBTQI+ community who escaped torture in Jamaica with the help of the Rainbow Railroad. As a symbol of solidarity all participants wore a pink triangle on their clothes.
With The Pink Triangle Issue of Vangardist Magazine, the motive is to ignite a conversation around the persecution of LGBTQI+ communities, who are increasingly facing persecution, imprisonment, torture or even death in more than 70 countries around the world including Chechnya, Egypt, India, Indonesia, Jamaica, Malaysia, Sudan and Uganda. For many, their only hope is to escape from those places, but only four countries in the world are open for gay asylum. The Pink Triangle Issue aims to raise awareness of these issues, and raise funds for the work of the Rainbow Railroad in helping find a path to safety for people fleeing persecution and empowering them to seek asylum.
Rainbow Railroad is a Canadian-based, non-governmental organisation who have been helping LGBTQI+ people escape persecution in places in the Caribbean, Middle East, Africa, North Africa and Eastern Europe.
Bobby Hrehoruk, Director of Development, Rainbow Railroad commented: "In homage to the Underground Railroad, Rainbow Railroad is a one of a kind, grassroots and international organisation dedicated to supporting LGBTQI+ individuals seeking safe haven from state-sponsored or enabled violence. Since our founding in 2006, we have funded travel to over 300 individuals with a record 200 people traveling to safety in 2017 alone. We recognize the atrocities that occurred in Mauthausen that targeted LGBTQI+ people, and believe that every person deserves basic dignity and safety for simply loving who they love. We are honoured to be selected as a beneficiary of the Pink Triangle Movement and hope you will support the work being done with the movement, to help us create a brighter future for many LGBTQI+ people."